AMPER SMART & SAFE CITY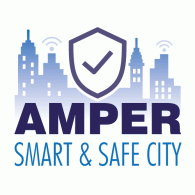 The AMPER trade fair is traditionally an ideal place for effective presentation and promotion of news and innovations of exhibitors from the field of SMART & SAFE CITY and at the same time a space for professional discussion.
The accompanying program of the AMPER trade fair will include the conference "Effective electromobility in the smart city" intended for the professional public from municipalities, municipal services, industry and other organizations. As part of the program of the fair focused on smart cities, new solutions in the field of information and communication technology security will also be discussed at the Cyber Security professional seminar.

Exhibitors of these modern technologies and solutions have the opportunity to discuss with leading experts at the AMPER trade fair, as well as the opportunity to effectively make their presentation visible at the trade fair and increase the probability of establishing new business contacts in the municipalities.


AMPER SMART & SAFE CITY 2022 presents ...




Compactive, s.r.o.
IISIGN - intelligent traffic sign

IISIGN is a smart road sign that improves the safety and clarity of traffic on high-risk roads. Thanks to the sensory capture of the movement of cars and pedestrians, it can evaluate the possibility of a collision and trigger a warning light. Through sensors, it continuously acquires data on traffic density, vehicle speed as well as ambient temperature and stores them in a cloud application.

The presentation of the company will be on view on stand no. P 6.37





BD Sensors s.r.o.
safyWASTE

System for identification and registration of persons depositing waste at collection yards. The core of the safyWASTE system is an application that provides data communication between the road bridge (weighbridge) scale and the safyWASTE kiosk, which is used to identify citizens using an ID card reader. This gives the operator a perfect overview of who, when, how much and what has been taken to the collection yard. In addition to the basic connection to the weighbridge, the system can be linked to the barrier, traffic lights and payment terminal. Citizens can thus pay for operator-defined waste cashlessly directly at the collection yard. The entire safyWASTE system operates in compliance with the applicable legislation (in particular GDPR). safyWASTE is a product developed and manufactured in the Czech Republic.The web interface contains an overview of the waste handed over, statistics, reports, invoicing documents for companies, list of debtors, unrecorded transfers, etc.

The presentation of the company will be on view on stand no. V 6.19





FLOWBOX s.r.o.
Solutions for digitalization of industries,cities and buildings: FLOWBOX - INTELLIGENT INTEGRATED DIGITALIZATION PLATFORM

FLOWBOX is an autonomous energy management and optimization platform to save energy, make more efficient operations, and to reduce carbon footprint. The platform can actively and autonomously manage, optimize operational technologies, and is able to provide demand flexibility for the smart grid. It is a hardware-agnostic system not tied to a specific hardware manufacturer. The robust hierarchical architecture utilizes edge computing. The platform can be used as a tool for energy management certification ISO50001, EU legislation compliance EPBD 2018/844 and GHG emission reporting.

The presentation of the company will be on view on stand no. P 3.11





Fronius Česká republika s.r.o.
Electric car charger Fronius Wattpilot

The Fronius Wattpilot is a cost-effective and sustainable solution for charging an electric vehicle, especially if surplus energy from the own PV system is used. The 11 kW Wattpilot HOME is permanently mounted and makes it easy to turn a simple socket into a smart charging station. Watpillot GO is a mobile charging station with 11 or 22 kW for use at home or on the go.

The presentation of the company will be on view on stand no. P 2.26





GMC - měřicí technika, s.r.o.
Comprehensive solutions for ensuring security in e-mobility

PROFITEST series of inspection and diagnostic devices for comprehensive testing of the safety and functionality of charging stations and charging panels in accordance with applicable regulations and standards. Including solutions for fast charging DC charging stations.


The presentation of the company will be on view on stand no. V 2.16





M2C
Digitalization of logistics and security processes

Full automation of site security in the form of continuous surveillance of camera systems using image analysis. Automation of driver check-in through e-Reception and supplementation of logistics processes with autonomous elements ensuring an automatic control system for entry and exit of vehicles to the premises. The result is the elimination of human error, streamlining the driver check-in process and reducing staff costs.

The presentation of the company will be on view on stand no. V 4.23

Stäubli Systems, s.r.o.
Single-pole industrial connector 16BL

Stäubli 16BL connectors are used to charge batteries for ships for public passenger transport on the Brno dam. The color and mechanical coding provides high safety and reduces any risk of wrong connection. With protection class IP68 and IP69 in mated state, the 16BL connection is the perfect fit for use in wet environments. The unique MULTILAM contact technology ensures a high level of occupational safety as well as the required high performance.

The presentation of the company will be on view on stand no. F 3.10

Professional partner of the accompanying program:
Ing. Jakub Slavík, MBA – Consulting Services

Media partner of the accompanying program:


---