Computer Stage 2019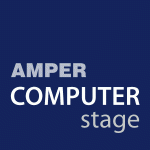 COMPUTER STAGE was organized by Terinvest in cooperation with COMPUTER magazine. Debates and panel discussions focused on current trends in the field of ICT were open to professionals, business representatives, and a general public.
Among the discussed topics were mentioned, for example, Industry 4.0 and the Internet of Things - Background Techniques, Examples from Practice, Autonomous Car Decisions in Crisis Situations, Voice Assistants: What They Can Do, What They Work for, in order to control smart homes by voice, Home energy self-sufficiency: the use of solar energy, batteries, island systems ect.
An Interesting discussion by journalists from Computer Magazine on the topic: What can break the gangs like Microsoft, Apple, Google or Facebook - under the name "No Tree is Growing into Heaven" was held on Wednesday, March 20, 2019 from 11 pm directly in Hall P on COMPUTER stage.
Programme of the stage was held in the Czech language.